360 Degree Feedback Reports
For our off the shelf 360 degree feedback surveys you will have access a range of off the shelf individual and group reports to give you the information you need in the way you need it. For bespoke surveys we will build a bespoke report based on our standard templates below but will tailor the report so that it is bespoke to your needs and your organisation.
Individual 360 feedback Reports
These have been designed by our experienced consultants in order to ensure the individuals receiving feedback can quickly understand their feedback. The reports encourage the individual to consider how they can make use of their strengths and recognise where their behaviour and actions may be having a negative impact. Find out more about our standard 360 feedback reports.
Professional User report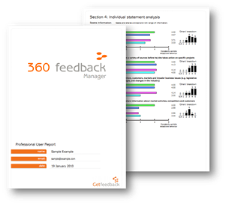 This would be used in a situation where an experienced facilitator would be delivering the feedback – taking the individual through the report and helping them to understand the key messages within the report. It contains all the key information, represented graphically, but lacks the contextual information that would enable the individual to interpret this report on their own. View a sample professional user 360 report.
Development Report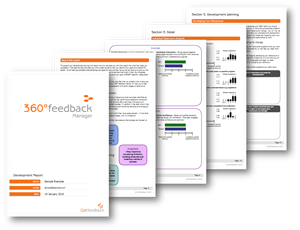 This report contains guidance and information to contextualise the information with the report. It presents the data graphically so as to aid the individual's understanding of strengths, areas for development and blind spots. It has been designed, based on our knowledge and experience of behavioural change, to maximise the chances of the individual taking action and successfully changing their behaviours. View a sample development 360 report.
Benchmarking
Benchmarking can be included in our off the shelf reports for an additional cost. Our benchmark data is built up of a large amount of 360 data for managers, leaders, and individuals from a range of business. Benchmarking aloows you compare an individuals results not only against the feedback given by thier nominees but also against thier peers within external organisations. Find out more about our 360 feedback benchmarks. View a sample development 360 report including benchmarks.
Group Reports
We also offer 2 group reports to allow you review the strengths and developments needs of a team as or whole, or to compare groups of individuals to make it easy to ensure your development initiatives have the most impact.
360 degree feedback Group Report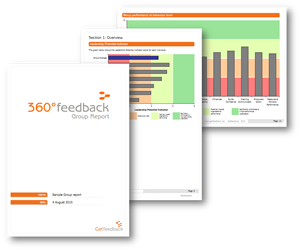 This report provides information about the individuals within a group or team. This report is useful for planning the future learning and development needs of the team as it identifies trends and patterns of strengths and areas for development. It is therefore a useful training needs or gap analysis tool. It can help you to identify your role-models and high-performers as well as those who may need more support. View a sample group 360 report
360 degree feedback group comparison report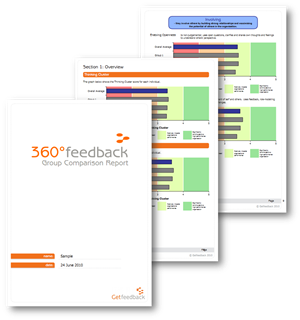 This report provides comparative data between groups/teams which can help you to evaluate the performance of different groups/teams within the business. It can help you identify why one team is out-performing others and can help to pin-point where support and development needs to be targeted. View a sample group comparison 360 report
Contact us to find out more about our 360 degree feedback reports or discuss your reporting needs.