360 feedback training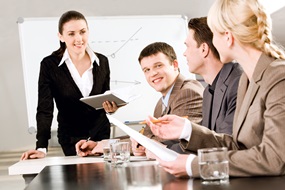 How the results of a 360 degree feedback survey are delivered and used is a critical part of the 360 degree feedback process. A poorly delivered feedback session could have a negative impact on performance rather than being a useful tool in helping and individual to move forward and work smarter and better. Not all managers or HR professionals are experienced in delivering effective feedback discussions for 360 degree feedback surveys. Ensuring your team have the right skills to have meaningful developments conversations with your employees will ensure that your 360 degree feedback project doesn't fall at the last hurdle!
GFB offer a one day training event designed to equip your team with an understanding of the 360 process; of how to interpret reports; and how to prepare for feedback conversations.
GFB's interactive 360 degree feedback training course will give your managers and HR professionals the skills to:
Understand the rationale for 360 degree feedback
Understand the 360 degree feedback process and responsibilities
Understand how to read the 360 degree feedback reports
Understand how to facilitate 360 degree feedback based on behaviours
Understand how to manage behavioural development
Improve understanding through practice
To find out more about our 360 degree feedback training course contact us.